e-Portal WEB ORDERS System
e-Portal


Instructions:
Login Page
Please save the e-Portal Procurement Home Page in your favorites. This is the page that you must start in before going to the Login Page. Important information regarding the system will be displayed on this page. Once at this page go to Order Entry to login.

Login Security Page
User Name: Type in your MACOLA User ID
Password: Type in your MACOLA Password (Remember the system is case sensitive)
Submit: Select the Submit button to continue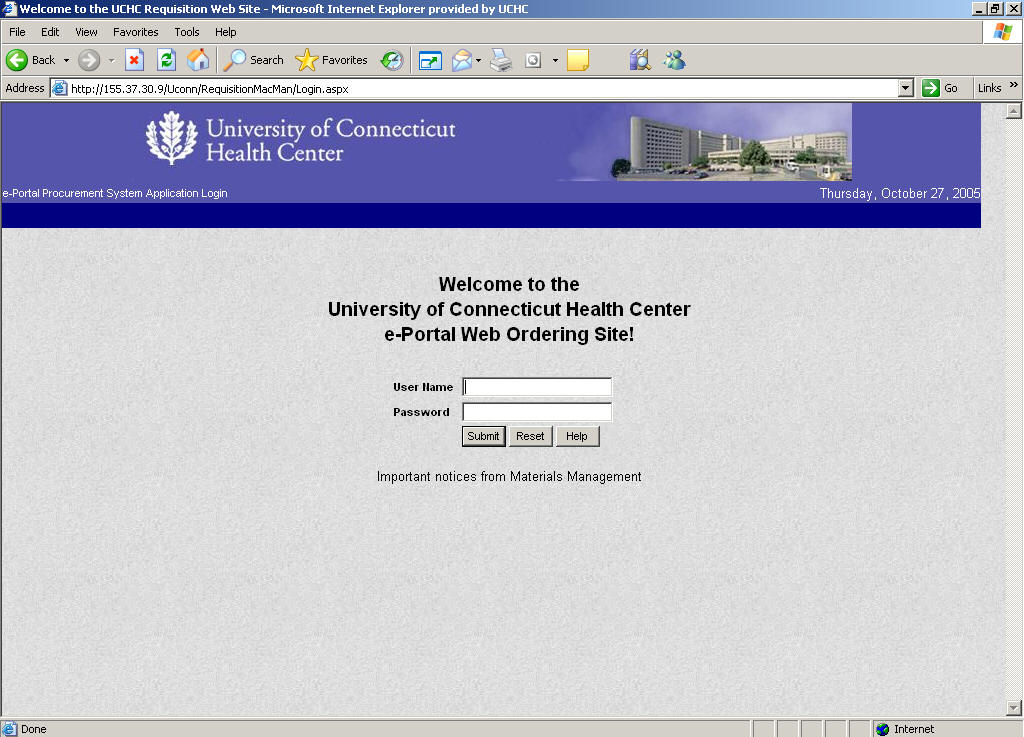 Desk Top Shipping Page

OLM On-line shipping instructions
Go to UConn Health website.

Click Faculty and Staff.

Click Materials and Logistics Management.

Click ePortal Web Orders.

Click Order Entry.

Click UCH Warehouse and Special Orders.

Click Shipping Request tab.

Must check if MM-17 is completed or not completed, as required.

Must check box 1 or 2 to proceed for the hazardous shipping question. Please contact Research Safety is box 3 is checked.

Click Shipping Request.

Enter Ship Date, Type and weight.

Enter Ship-to address. Add new for first shipments or Search for saved shipments. When adding new please click "Private Address Book Record."

Can choose additional email notifications.

Can manually select carrier or best way. We encourage everyone to always use best way. This will give estimated cost and delivery expectations.

Click Submit.

Go to Assign Orders.

Choose type "RTS – Request to Ship."

Choose order. *Highest RTS number is most recent.

Choose Account and Ship From.

Submit and print Request to Ship. Please include with package and bring to West Dock help desk or call x1958 for pickup.
If there are other Reports & Queries that you would like developed for e-Portal, please contact Logistics Management at 679-1917.